Making wealth
more meaningful.
We help achieve your financial dreams through meticulous planning and effective wealth management.
We Are BuckSpeak
Buckspeak was created by a bunch of finance professionals who believe in positively influencing the lives of people who have a need to create wealth for them so that they can fulfill their long and short term financial goals…

Financial Planning
A comfortable retirement… children getting the best possible global education in the field of their choice… a tour around the world planned with your wife…
Our lives are surrounded with small and big goals. These are the goals that bring a smile to us when achieved.

Retirement Planning
Retirement should be the stage of life where you have time to do things of your choice and not worry about when the next pay cheque is hitting your account.
It should be that time when your financial condition doesn't deter you from trying something new without stressing about your office or job.

Tax Planning
Yes, taxes are here to stay. However, reducing the burden of taxes as much as possible is the practice of intelligent people.
How can you make the most out of your hard earned money and not worry about the last minute rush to pay your taxes?

Wealth Management
"It's not how much money you make, but how much money you keep, how hard it works for you and how many generations you keep it for." – Robert Kiyosaki
Preservation, appreciation and succession are the three founding pillars on which the principles of wealth management stand.
We also have fabulous services for Corporates!
See what our customers are saying…
I am absolutely delighted with your service.
"It is really refreshing to work with a financial adviser who is truly interested in their client's needs, circumstances and preferences. What really impressed me was the way you took the time to get a feeling for where I was at, your depth of knowledge, lateral thinking and your common sense approach. The expertise and attention to detail with which you have handled our financial affairs could not be faulted. Particularly reassuring to us is our feeling of certainty in the absolute integrity of your dealings with us. It's nice to have one place to come to, without being too large or institutional. This is what financial advisors should do! I have never had this kind of experience in the past with financial advisers and this is the kind of service I have been looking for I feel like you know the whole picture and if anything happened to me now, I know my family will be looked after. Your professional, ethical and caring demeanour elicits my trust and respect and I gladly recommend your services whenever possible."
S. RAMESH
AVP - Finance, HSIL Limited
The reason for my financial stability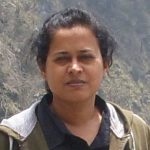 "The BuckSpeak team is the reason for whatever financial stability I have today and I think that's the best i could have asked for. My association with BuckSpeak started in 2007 and I chose to stick with him when he decided to be an independent financial planner in 2009. When I look back, I think this is one of the best financial decisions I took. He has helped grow my financial portfolio in a very balanced and focused way. We have the financial goals defined and work towards it without bothering about the daily ups and downs in the market. I enjoy working with them."
APARAJITA DAS
Group Manager, Oracle India Private Limited
Never lacking in the service
"What makes you different from others:
1. Unbiased opinion, 2. Timely suggestion, 3. Good MIS, 4. Fast response and resolution
I have definitely grown with you. Once I started association with you, I have not gone to anybody else, though there have been many people / banks who approached me for portfolio management. Wish you all the SUCCESS in your new structure which will carry much better image but ultimately service will count and I have never found lacking in the same."
J K SOMANI
Sr Vice President (SCM & Commercial), HSIL Ltd.
Got questions? Let's connect!
Drop us a line
C'mon, let's talk about your financial dreams and goals. We are waiting to hear from you!