In 1849, French writer Jean-Baptiste Alphonse Karr wrote  "plus ça change, plus c'est la même chose " – the more things change, the more they stay the same…
Last 18 months in equity markets :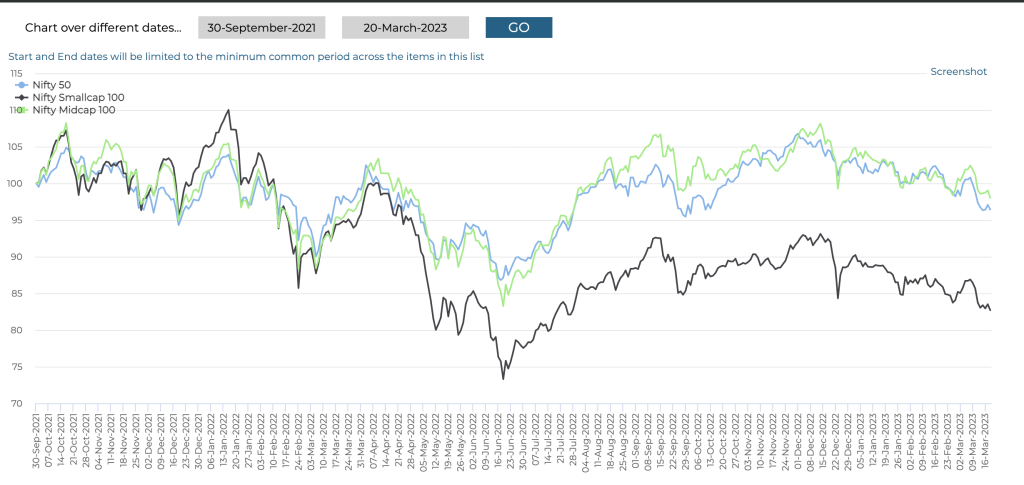 While Small Cap index has corrected 17-18 % in absolute, the large and mid cap index have remained range bound and ended up at similar absolute level
Index levels hide more than they reveal
However, companies have had a robust last 18 months, posting strong profit. This has translated into market valuations correcting meaningfully.
Price to Earnings multiple, which is one of the key measures of valuation ( disclaimer : not the only one though) has come off from their highs :
Path ahead
The near term does look uncertain (on second thought, when has it been any different ?). However, what we do know from past data is 5-6 year investments into equity at these valuations, have delivered meaningful returns
Portfolio Action
June 2022 is when we had last invested lumpsum into Indian equities. The current levels is similar and we would be recommending investments into equity, either through fresh allocation or switch from debt. We would continue to set up regular transfers from debt to equity, over the next 12 months
Disclaimer : The opinions expressed in the Blog are for general informational purposes only and are not intended to provide specific advice or recommendations for any individual or on any specific security or investment product.  It is only intended to provide education about the financial industry.  The views reflected in the commentary are subject to change at any time without notice.Image has been used only for representational purposes. While lot of care has been taken to validate the data , neither BuckSpeak nor any of its employees should be held responsible for its authenticity. Investments are subject to market risk , please engage with professionals to take better investment decisions.
We like to share links to articles and information which is interesting to us.  It is in no way an endorsement by us or by anyone associated with us.