Perils of Optimism
'the feeling that good things are more likely to happen than bad things'
This is how Cambridge dictionary defines optimism. Most of us are wired to stay positive. That's what self-help books, YouTube videos, Good morning messages on WhatsApp try so hard to do. It actually makes lot of sense as well. However, when it comes to investment, it can sometimes be a limiting factor (to put it mildly).
Uncertainty & Transition
History of capitalism has taught us repeatedly, that no institution's existence is sacrosanct. TIMES CHANGE. Old guard, gives way to the new one.
Lehman Brothers' stock was selling at $86 a share in February 2007, giving the company a market capitalization of nearly $60 billion. For the year, the company reported a new record high in net income, over $4 billion. In January 2008, Lehman Brothers was the fourth-largest investment bank in the U.S.( source : https://corporatefinanceinstitute.com/resources/wealth-management/lehman-brothers/)
On 15th Sept 2008, Lehman Brothers filed for bankruptcy.
Moral of the story : you might be the strongest and yet can't take that for granted
Me and My ESOPs : Till Death do us part 😊
ESOPs are quite the norm amongst some of the best companies in the world. Salaries and bonuses are better than most peers and star performers end up owning significant ESOPs. Often this forms a huge part of a family's net worth ( sometime 70-90 % of their net worth).  In my conversations, I have found people to be reluctant in trimming their ESOP exposure.
Even if you work in the best firm on the planet Earth, rationalising one's exposure to their employers' shares makes lot of sense. Often people hate selling it, to avoid a feeling of regret in future. However, the below matrix will help one understand why it makes sense to have some proportion :
If the company does well
if the company does not do well
Earnings( Career)
Net worth( ESOPs)
Earnings( Career)
Networth( ESOPs)
Reduced Exposure( sold some shares)
Positive
Negative
Negative
Positive
High Exposure(ESOPs continued to be 60-90 % of Networth)
Positive
Positive
Negative
Negative
As you can see, having a balanced exposure, is the most optimal solution.
Why is forecasting share price so difficult ? Even for your own firm( Employer). Bill Gates and his friend Buffet
The funny thing is; it's equally( predicting stock prices) difficult for CEOs and. Let us look at Bill Gates Portfolio ( as on 30th June 2022) :
| | | | | |
| --- | --- | --- | --- | --- |
| Ticker | Company | % Portfolio | Number of Shares | Value ($1000) |
| BRK.B | Berkshire Hathaway Inc. | 53.56% | 34,689,845 | 9,471,021 |
| WM | Waste Management Inc. | 16.12% | 18,633,672 | 2,850,579 |
| CAT | Caterpillar Inc. | 7.43% | 7,353,614 | 1,314,532 |
| CNI | Canadian National Railway Co. | 6.54% | 10,278,630 | 1,156,038 |
| ECL | Ecolab Inc. | 3.80% | 4,366,427 | 671,382 |
| WMT | Walmart Inc. | 2.08% | 3,020,859 | 367,276 |
| KOF | Coca-Cola Femsa SAB de CV | 1.94% | 6,214,719 | 343,550 |
| DE | Deere & Co. | 1.52% | 899,655 | 269,420 |
| MSFT | Microsoft Corp. | 1.37% | 944,620 | 242,607 |
Microsoft is no 9 on that list and hardly 1.4 % of his overall portfolio. However, look at the difference in the stock performance of Microsoft and Berkshire in the last 5 years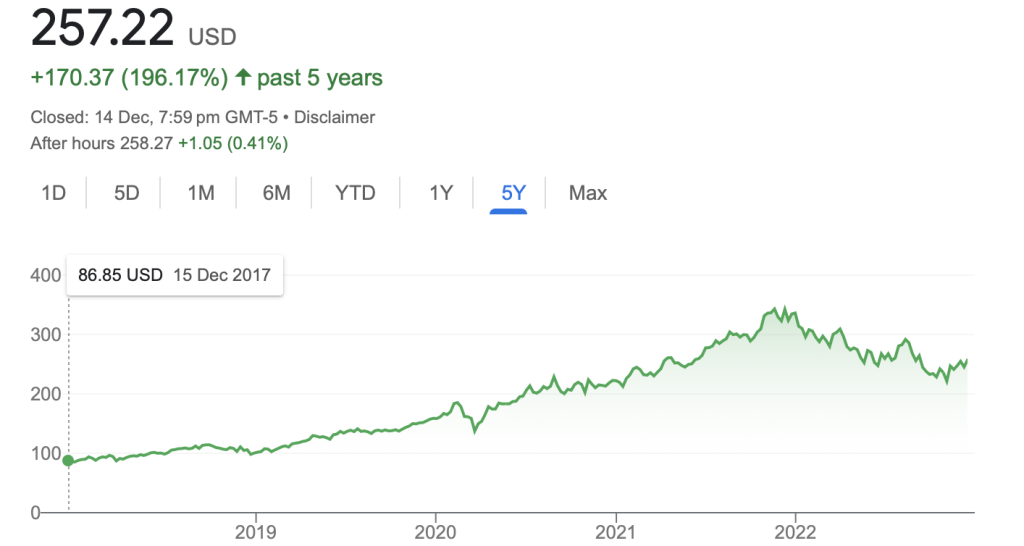 If Bill Gates( he co-founded Microsoft in 1975 and left full time position in 2008) can get it wrong, you can imagine how tough it must be to predict future stock movement
Bottom Line:
There should be a sense of proportion in terms of ESOPs allocation in one's portfolio. All eggs, one basket, you get the drift 😊.
Disclaimer : The opinions expressed in the Blog are for general informational purposes only and are not intended to provide specific advice or recommendations for any individual or on any specific security or investment product.  It is only intended to provide education about the financial industry.  The views reflected in the commentary are subject to change at any time without notice. Image has been used only for representational purposes. While lot of care has been taken to validate the data , neither BuckSpeak nor any of its employees should be held responsible for its authenticity. Investments are subject to market risk , please engage with professionals to take better investment decisions.
We like to share links to articles and information which is interesting to us.  It is in no way an endorsement by us or by anyone associated with us.