To quote Jason Zweig (Wall Street Journal columnist and one of my favourite writers on personal finance and investing) :
Scientifically speaking, boredom is a mildly unpleasant state of mind usually triggered by a monotonous environment. He further adds 'There's another possible danger. "Boredom might be catching," says Robert R. Provine, a psychology professor at the University of Maryland, Baltimore County. 
You can read more about his thoughts on boring investments here. 
The Excitement of Investing
To think about it; in a social context ; what's more appealing ? Coming across as an Intelligent Investor, who is constantly unearthing exciting opportunities or an Investor who has outsourced her investing to Advisors, fund managers and the economy ? It's a no-brainer. One big reason is that the second approach is boring, we hardly get any kick out of it, when it works.
Even as someone from the eco-system, I am often amazed on the space investment occupies in everyday conversation. It should gladden my heart, but it does not. In any case boring investments, that I am the torch-bearer for, gets very little mind space 😊
Current Times
Why are we talking about it today ?( TBH in the last 12 months; we have spoken about this state of dullness earlier as well : this one we wrote in Mar 2023
Plus ça change, plus c'est la même chose : tale of Indian equities
and this one in the beginning of 2023
 Since Oct 2021, equity markets have been range-bound and in the 20 months( this is being written in June 2023), it is gone up 2-3 %  It has been what I call 'a boring period' in the world of equity investing. Our clients know how much we love such periods. 'Luckily' for us, while the current levels are pretty similar to that seen in Oct 2021, the interim journey has been a V/ U Shaped one.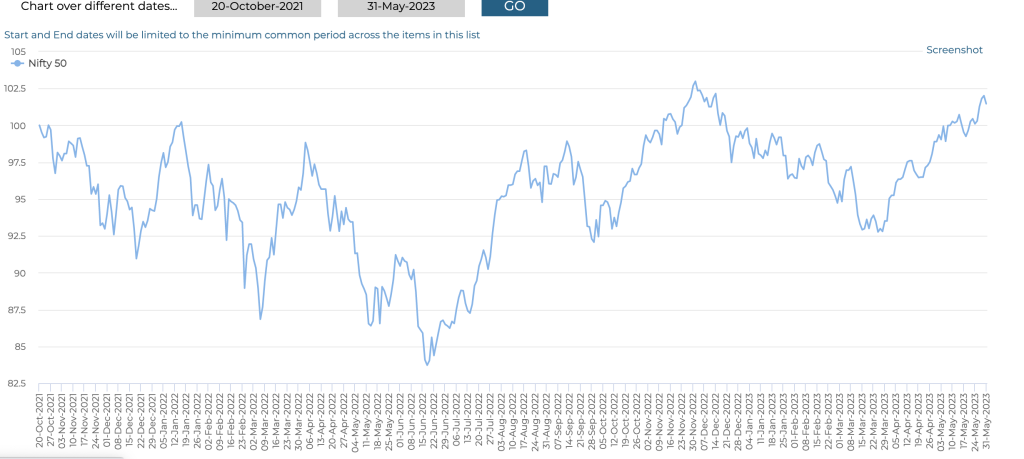 We have been deploying through SIP/ STP and have been able to buy more units on the way down and reaped the benefits on the way up. Let's look at the SIP/ STP returns for investments between Oct 2021 to June 2023 :
| | |
| --- | --- |
| Category of Funds | Approx. XIRR ( in % p.a. ) |
| Large Caps | 10-11 % |
| Diversified Funds | 11-12 % |
| Mid Caps | 12-14 % |
| Small Caps | 12-20 % |
Remember markets in this period have been 'boring'. So, 'boring' can be rewarding as well
Exciting is definitely growing in this boring period
Investor did seek excitement during this period. I quote from the Mint article written by Satya Sontanam in Dec 2022 on the popularity of AIF funds( where min ticket size is 1 cr)
The alternative investment fund (AIF) space has witnessed the sharpest growth in the investment industry in the past five years with over 50% compound annual growth rate (CAGR)as of FY22. To put this in perspective, the retail investors' favourite, the mutual fund industry, grew by about 16% CAGR in the said period. 
Yes, the base effect has a role to play, but the growth in AIFs is still quite high. We at BuckSpeak aren't averse to AIFs/ PMS; however our position is pretty clear ; the post tax, post expense return has to be commensurate to make sense. We do recommend them as and when they fit a particular portfolio
We might still be in a dull equity market. May be equity markets don't go anywhere in the next 1-2 years. As illustrated above, it won't be such a bad thing for our investments. As George Soros; one of the most well-known fund managers had this to say on this topic "If investing is entertaining, if you're having fun, you're probably not making any money. Good investing is boring."
Disclaimer : The opinions expressed in the Blog are for general informational purposes only and are not intended to provide specific advice or recommendations for any individual or on any specific security or investment product.  It is only intended to provide education about the financial industry.  The views reflected in the commentary are subject to change at any time without notice.Image has been used only for representational purposes. While lot of care has been taken to validate the data , neither BuckSpeak nor any of its employees should be held responsible for its authenticity. Investments are subject to market risk , please engage with professionals to take better investment decisions.
We like to share links to articles and information which is interesting to us.  It is in no way an endorsement by us or by anyone associated with us.